Source: NASA Earth Science Projects Division

Event: NASA's Sustainable Land Imaging Architecture Study Interim Status Report
Time: 9:00 a.m. – 12:00 p.m. EDT
Date: Tuesday, April 1, 2014
Location: NASA Headquarters James E. Webb Auditorium, 300 E Street, SW, Washington, D.C.
Registration: Go to http://espd.gsfc.nasa.gov/landimagingstudy/ to register for this event.
Capacity Note: Onsite-attendance will be limited by seating capacity.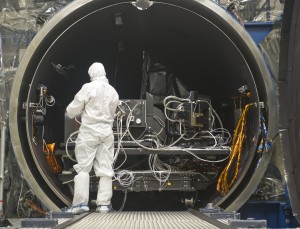 On April 1, the National Aeronautics and Space Administration (NASA) will host an event to present to the research and industrial community the interim results and assessments from NASA's Sustainable Land Imaging (SLI) Architecture Study.
In the President's proposed fiscal year 2014 budget released in April 2013, the Administration directed NASA to design for implementation a spaceborne system to provide global, continuous Landsat-quality multispectral and thermal infrared measurements for at least the next 20 years and to submit the program recommendations to the Office of Science and Technology Policy (OSTP) in August 2014. The Administration directed NASA to lead the overall system architecture study with participation from the Department of the Interior's U.S. Geological Survey (DOI/USGS).
To spur innovation and enable efficiencies across programs and platforms, the study will identify and evaluate a range of solutions including large and small dedicated spacecraft, formation flying, hosted instruments, and integration of other land imaging data sets, as available, as well as possible international and private sector collaborations. The study has included careful consideration of the current and future planned ground system capabilities provided by the established USGS Earth Resources Observation and Science (EROS) Center.
The study was undertaken with guidance that lowering the system's cost to the nation is an important goal and that implementing a system that stays within the allocated budget is an essential programmatic requirement for the U.S. government. This is a notice of a meeting, not a solicitation of any kind. At this public forum, NASA, with technical experts from the SLI Architecture Study Team, will provide a status on the preliminary findings regarding the metrics used to compare architectures while taking into account the program requirements for performance, continuity, affordability and robustness; the range of architectures under consideration; and how candidate architectures are being assessed against the metrics.
At the meeting NASA will solicit feedback on initial findings and present plans for the remainder of the study.
For those unable to attend in person, the meeting will be streamed live over the internet with an e-mail address to submit questions to the panel.
Email HQ-LandImaging-RFI@mail.nasa.gov to submit questions remotely during the event.
Registration Information:
+ Sustainable Land Imaging Architecture Study Interim Status Briefing

Posted: Mar 27, 2014