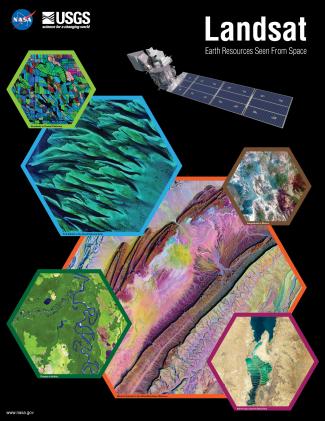 April 29, 2020 • This year, Earth Science Week is held from October 11-17.
The 2020 Earth Science Week poster was created as a joint effort between NASA, AmericaView, and USGS and incorporates Landsat imagery to engage with and communicate to the public this year's American Geological Institute (AGI) theme: "Earth Materials in Our Lives".
Viewing Earth Materials from Space
The front of the poster highlights stunning Landsat imagery for six different sources of Earth materials: evaporation ponds, mines and quarries, water, rangelands, croplands, and forests.
Featured on the back of the poster is a game in which players travel around the board collecting raw Earth materials in order to manufacture products – all while interacting with Landsat imagery and trying to avoid natural disasters.
Poster Files (pdf):

+ Poster Front
+ Poster Back (game board)
+ Game Instructions
Spanish Version (pdf):
+ Poster Front
+ Poster Back (game board)
+ Game Instructions
Landsat 9
The poster also highlights Landsat 9, launching in 2021. Landsat 9 will continue the nearly 50-year Landsat data record, providing actionable information to resource managers and policy makers around the world.
Landsat 9 will record the condition of Earth's ever-changing land surface, enabling scientists and others to monitor crops and algal blooms, assess deforestation and urban growth trends, and support disaster relief.
Additional Resources
+ AmericaView
AmericaView is a nationwide, university-based, and state- implemented consortium that advances the widespread use of remote-sensing data and technology through education, outreach, and workforce development for the public and private sectors.
+ EROS Earth at Art
+ USGS and Landsat
+ Earth Observatory
Poster design by Allison Nussbaum and Ginger Butcher.