Landsat's Role in Managing Rangelands
Rangelands are areas of uncultivated land, largely characterized by native grasses, forbs, and shrubs, that are grazed or suitable for grazing by livestock and wildlife. According to the recently published Rangelands ATLAS, rangelands cover 54% of the Earth's terrestrial surface and are made up of seven different biomes, including deserts and various types of shrublands, grasslands, woodlands, savannas, and even tundra. The diverse ecosystems and habitats that constitute rangelands provide society with several ecological services, as well as cultural and aesthetic value. Also, by serving as a significant source of forage for livestock, rangelands support food production for the growing global population.
Due to the vastness of rangelands, it is impractical and almost impossible to provide proper management with just field observations and measurements. A key tool for managing and monitoring rangelands is Landsat data. Scientists and land managers can assess the health and productivity of rangelands by evaluating Landsat imagery, data, and vegetation indices throughout peak and non-peak growing periods. The use of remotely sensed imagery in rangeland management is particularly valuable because vegetation growth in arid and semi-arid rangeland ecosystems is dependent upon precipitation and highly variable between seasons and years. Landsat data, when paired with on-the-ground observations, can guide land management decisions, such as grazing regimes, and provide a full perspective of rangeland health and forage production.
Washington-Allen is a longtime Landsat data user working towards drylands restoration and sustainability solutions.
Read More »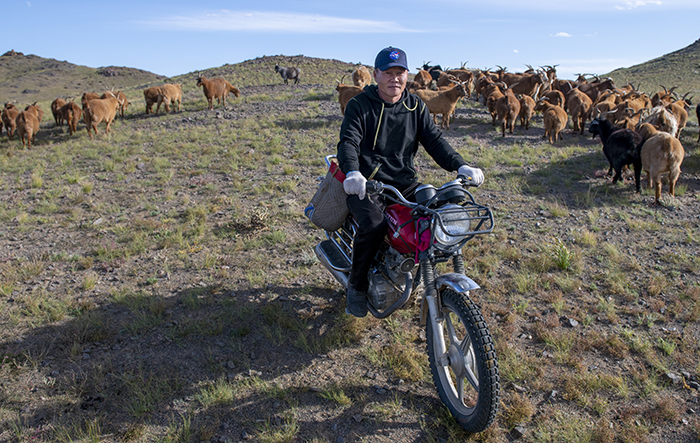 Landsat allows herders to monitor vast expanses of desert in a way traditional field monitoring can't support.
Read More »
The Landsat-based Rangeland Analysis Platform and Green-Cast are valuable tools for ranchers adaptively managing their land.
Read More »