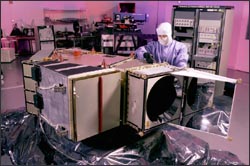 Technical descriptions of the Landsat satellites can be found by following the links at the bottom of this page.
For regularly updated information on the Landsats 5, 7, and 8 missions visit the USGS Landsat website.
For detailed information on Landsat 7 data use, visit the Landsat 7 Science Data Users Handbook.
---
Visual comparison of Landsat spectral bands
Full spectral response data is located here: TM/ETM+, OLI, TIRS
To compare the exact band designations in tabular form, please visit the USGS page "What are the band designations for the Landsat satellites?"     For detailed information on Landsat 8 (formerly the Landsat Data Continuity Mission, LDCM), visit the Landsat 8 section of this site or read the LDCM brochure .
technical documentation,
ground station facts,
Landsat calibration parameter file details,
satellite ephemeris information,
satellite anomaly investigations,
data acquisition information,
image processing particulars,
and data product guidance.
Landsat 8 Science Data Users Handbook
background Landsat program information,
spacecraft characteristics,
Landsat 7 payload details,
ground system details,
orbit and coverage particulars,
data properties,
artifact characterization,
instrument calibration information,
calibration parameter file details,
level 1 data processing details,
data product information,
product ordering guidance,
system performance details,
automatic cloud cover assessments,
and application information.
Related Information: