Source: Ball Aerospace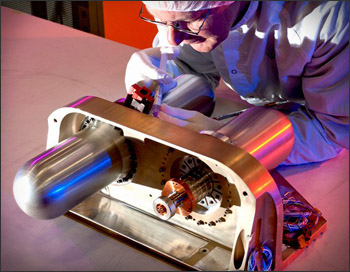 Ball Aerospace delivered the TIRS-2 Flight Cryocooler for the Landsat 9 TIRS-2 instrument ahead of schedule to NASA's Goddard Space Flight Center (GSFC). Achieving this milestone early will allow GSFC additional time and options during the instrument integration and test phase.
For more than 45 years, Landsat Earth-observing satellite missions have gathered multispectral imagery from space, helping scientists understand the impacts of human activity and natural events on our planet through constant monitoring of land changes.
The TIRS-2 instrument aboard Landsat 9 will provide two-band thermal imaging data to measure surface temperature and track land and water usage. The Ball-built cryocooler on the instrument enables TIRS-2 to cool the focal plane and the surrounding enclosure to maintain the sensitivity needed for imaging.
"We are very pleased with the engineering Ball has performed on the TIRS-2 cooler system, and the early delivery provides us with additional schedule flexibility," said Theo Muench, Contracting Officer Representative, GSFC.
The TIRS-2 Flight Cryocooler is based upon a Ball family of Stirling Cryocoolers, which are the nation's largest capacity, highest efficiency cryocoolers on orbit to date. The two-stage Flight Cryocooler consists of two Cryogenic Control Electronics (CCEs), one Redundancy Switch Electronics (RSE), a Thermo Mechanical Unit (TMU) and a flight harness set. For TIRS-2, Ball developed redundant electronics and incorporated many design and manufacturing improvements to simplify the fabrication and assembly process.
"Ball has a rich heritage in remote sensing capabilities, which has aided in the development and delivery of the TIRS-2 Flight Cyrocooler instrument," said Jim Oschmann, Vice President and General Manager for Civil Space, Ball Aerospace. "Our cyrocooler will enable Landsat 9 to take precise and efficient imagery while maintaining stable temperatures."
Ball continues to use its heritage in remote sensing observations and scientific studies with the TIRS-2 companion instrument, the Operational Land Imager-2 (OLI-2), an advanced multispectral imager. Landsat 8 launched in 2013, equipped with Ball-built TIRS-1 Cryocooler and OLI-1. Together, TIRS-2 and OLI-2 will support the science and continue advancing remote sensing observations and technology as Landsat 9 prepares for launch in 2020.