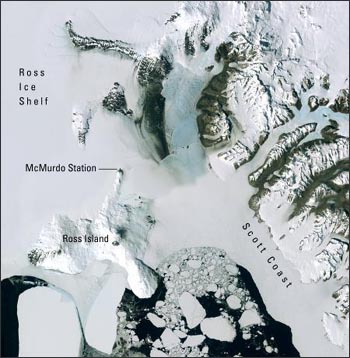 In support of the International Polar Year (2007-2008), the new Landsat Image Mosaic of Antarctica (LIMA) brings the coldest place on Earth alive with a comprehensive view of Antarctica.
The USGS, the British Antarctic Survey, and NASA, with funding from the National Science Foundation, are developing the new mosaic along with an Antarctic web portal and online map viewer. From the Antarctic web portal, scientists and the general public will be able to download the entire mosaic and all of the original 1,065 hand-selected Landsat scenes used to create the mosaic. These scenes are part of over 8,000 scenes collected from 1999 through 2006 by the ETM+ sensor onboard Landsat 7. The seamless mosaic will be available in four versions to fit different scientific and aesthetic needs.
Antarctica exists as a frozen dream to most people, yet what is happening in the southernmost environment affects us all.
The first International Polar Year (IPY) was in 1882 – 1883 and was the first of many opportunities to broaden our understanding of the Polar Regions through interdisciplinary research. The second IPY will run from March 2007 to March 2008 to allow research on both poles during the winter and summer seasons. Research relating to the IPY will cover a wide variety of topics, from social change in Polar Regions to shifting ice shelves in Antarctica.


The first Landsat mosaic of Antarctica is part of the IPY effort. With over 1,000 scenes, it will be one of the largest mosaics of Landsat ever created. These data will be hosted free to the public through a user portal that is currently under development.
Individual Landsat 7 images will be processed to achieve the highest degree of geographic fidelity, or map accuracy (i.e., the data will be processed to Level 1G and then orthorectified). The ETM+ bands will be transformed from radiance to reflectance values, mosaicked, and finally contrast enhanced to optimize the detail seen in all types of terrain. Available products will include a panchromatic band mosaic at 15 meter resolution, a 3-band false color composite at 30 meter resolution, a 3-band true color composite at 30 meter resolution, and the individual Level 1G orthorectified scenes. The scene-based data and the three versions of the mosaic (panchromatic; 3,2,1 combination; 4,3,2 combination), will be web-enabled for download as they become available.
Source: USGS
For more information:
+ "LIMA: Progress on the Landsat Image Mosaic of Antarctica: An IPY Project" (PDF)
+ LIMA information at the USGS Landsat Image Gallery 
+ NASA IPY website