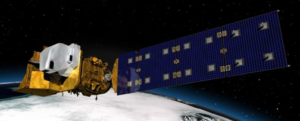 [Source: Steve Cole and Cynthia M. O'Carroll, NASA] NASA has awarded a delivery order under the Rapid Spacecraft Acquisition III (Rapid III) contract to Orbital Sciences Corporation of Dulles, Virginia, known publicly as Northrop Grumman, for the Landsat 9 spacecraft.
This contract is a 5-year, firm fixed-price delivery order for the purchase of the Landsat 9 spacecraft in the amount of $129.9 million. Orbital will design and fabricate the spacecraft, integrate the mission's two government-furnished instruments, and conduct satellite-level testing, in-orbit satellite checkout, and mission operations support. The work will be performed at the contractor's facilities and at the launch site at Vandenberg Air Force Base in California.
The spacecraft will extend the Landsat program's record of land images to half a century. Landsat has provided accurate, 98-foot (30-meter) resolution, multi-spectral, global measurements of Earth's land cover since 1972, building a freely available archive of more than six million satellite images. With data from Landsat satellites, ecologists have tracked deforestation in South America, water managers have monitored irrigation of farmland in the American West, and researchers have watched the growth of cities worldwide.
Landsat 9 is a cornerstone of our nation's multi-satellite, multi-decadal, Sustainable Land Imaging (SLI) program. SLI is a NASA-U.S. Geological Survey (USGS) partnership to develop, launch, and operate a spaceborne system that will provide researchers and other users with high-quality, global, continuous land-imaging measurements. These data are compatible with the 44-year Landsat record and will evolve through introduction of new sensor and system technologies.
NASA will build, launch, and perform the initial check-out and commissioning of the satellite. USGS will operate Landsat 9 and process, archive, and freely distribute the mission's data.
The Rapid III contract provides a rapid and flexible means to procure spacecraft in support of the scientific and technology development goals of NASA and other federal government agencies.