Source: NASA Goddard Space Flight Center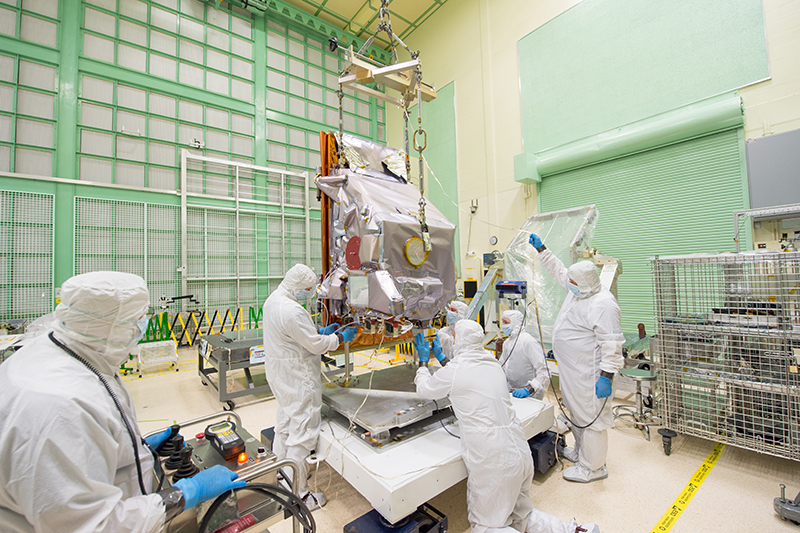 Landsat 9's Thermal Infrared Sensor 2, known as TIRS-2, successfully completed its baseline thermal vacuum testing.

The TIRS-2 team finished a grueling 6 week thermal vacuum test campaign to test the full performance of TIRS-2 over the operational temperature extremes of +50 C to -235 C (120 F to -390 F). This test required support from all TIRS-2 subsystems, with a large team working around the clock (24/7) to execute the test procedures.

The completion of this test represents a major milestone for the TIRS-2 project, demonstrating that the team has built a well working instrument to meet the requirements of Landsat 9.

The TIRS-2 instrument is a 2-channel thermal imager that provides global, geo-located thermal image data in the 10.8 um and 12 um bands with a 100 m sample size over a 185 km wide field-of-view. It will fly on Landsat 9, the newest addition to the Landsat satellite fleet, which will continue the legacy of the joint NASA/USGS Landsat Program providing Earth imagery since 1972.

The TIRS-2 instrument leverages the design of TIRS on Landsat 8 to provide similar measurements of the surface of the Earth with an improved absolute accuracy and increased robustness and redundancy for a longer mission life.

TIRS data are used by scientists around the world to measure evapotranspiration of vegetation to evaluate water consumption on a field-by-field basis, assess droughts, and aid in water use management. These data are also used to track deforestation, assess volcanic eruptions and hazards, map urban heat fluxes, monitor and assess wildfires, track material transport in lakes and coastal regions, identify mosquito breading areas, and map power plant thermal plumes in waterways.

TIRS-2 repeats measurements of the same location around the globe every 16 days.
TIRS-2 is designed, built, and managed at NASA's Goddard Space Flight Center in Greenbelt, MD.