Do you like birdwatching? Are you a citizen scientist?
Do you like birdwatching? Are you a citizen scientist?
Landsat has monitored ecosystems and biodiversity, tracked animal habitats, & studied how organisms in an ecosystem are connected and allows scientists to measure the health of plant species, making sure an ecosystem is properly balanced. This is key to the stability of organisms & the benefits they provide – both to wildlife & humans.
Did you know you can help scientists who study land cover from space?


Landsat 9 launched September 27rd at 11:11am
PST (2:11pm EST). Discover more about the 
Landsat
9 satellite and the nearly 5 decades of 
Earth Observation with these activities.
Embroidery hoop entitled "69.33, -132.06" inspired by Landsat 7 image of Husky Lakes in northern Canada.


Credit: Danielle Currie, Instagram @satellite_stitches
Postcard from Camp
Collect all nine postcards from Camp Landsat starting with Week 9: Flora & Fauna! What's your favorite animal? Whether it's turtles, elephants, or birds, Landsat can be used to monitor animal habitats across the globe. The front of this postcard features a natural-color image of Burma's Mergui Archipelego, acquired December 14, 2004.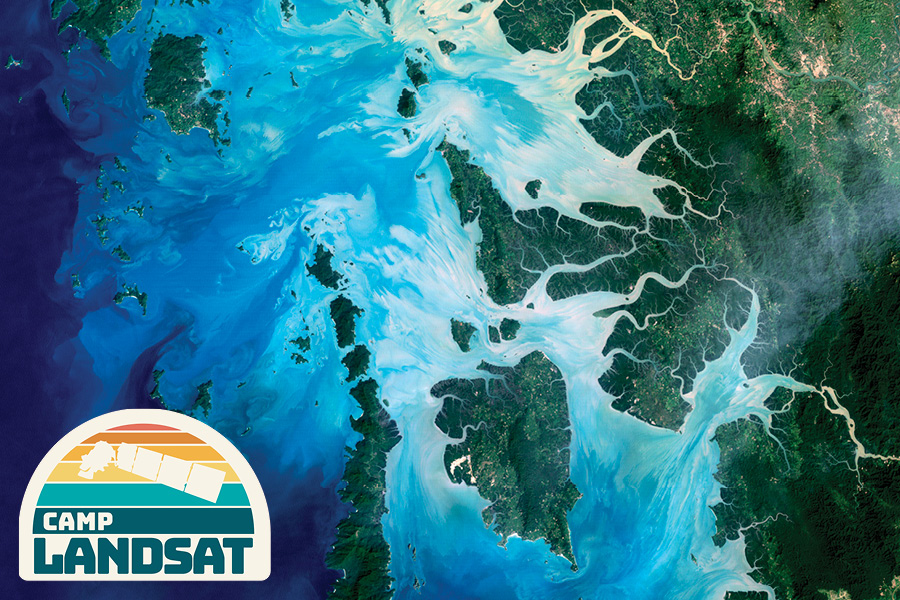 EOKids
Satellites like Landsat can measure infrared light to assess the health of plants that make up habitats essential to animals. Discover more about how Landsat measures plant health and learn more about Photosynthesis in (Infra)Red Light Green Light.