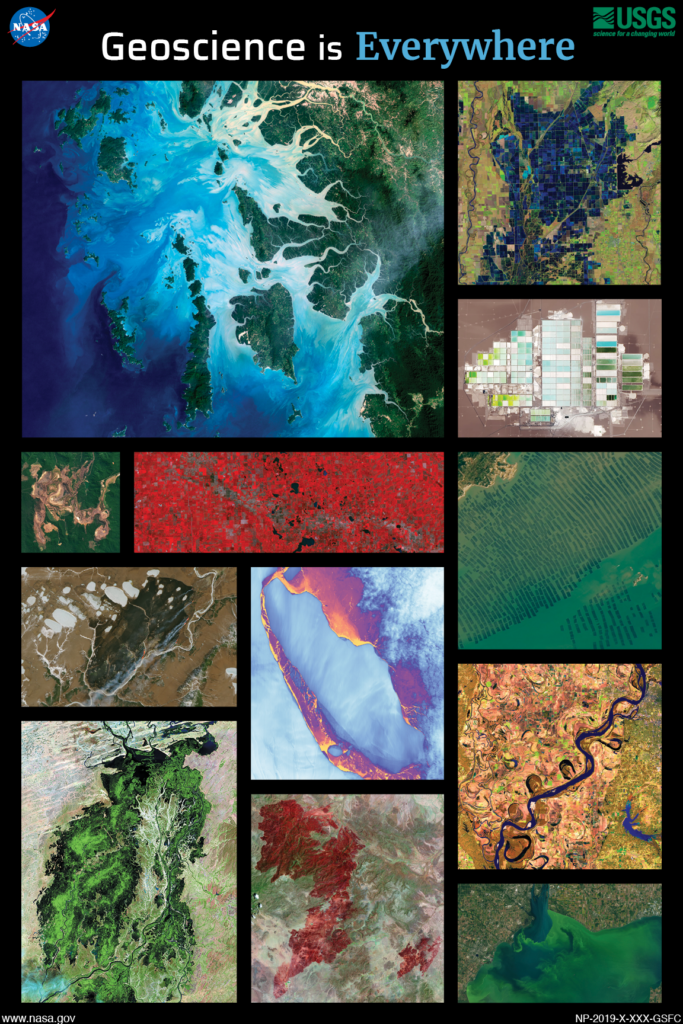 NASA and AmericaView again joined forces to create this year's 2019 Earth Science WeekPoster. The poster features a wide array of remote sensing and geoscience applications. In addition to the breathtaking imagery on the front, this year's poster has a wealth of information on its back that expounds on the NASA/USGS Landsat satellites, the AmericaView consortium, and gives background information about each of the images used on the poster front.
Geoscience is for everyone everywhere
Geoscientists study all aspects of Earth: the lithosphere, atmosphere, hydrosphere, cryosphere, and the biosphere—where all spheres interact. Everyone can relate to and observe the Earth around us with one of our several senses. Earth observation satellites like Landsat extend our senses to help us monitor our changing and beautiful planet as it affects our everyday lives.
A Vision for Earth Observation
Fifty-three years ago, Secretary of the Interior Stewart Udall announced his vision to create "a program aimed at gathering facts about the natural resources of the Earth from Earth-orbiting satellites." Since 1972, the Landsat series of satellites has been keeping a watchful eye over our planet. Landsat's continuous 47-year accumulation of imagery has provided stunning images of the Earth and enabled geoscientists globally to document our changing landscapes. Poster design by Allison Nussbaum.
Get the full poster (as a PDF) here:
Download Poster Front
Download Poster Back
Spanish Version