Contributor: Gretchen Cook-Anderson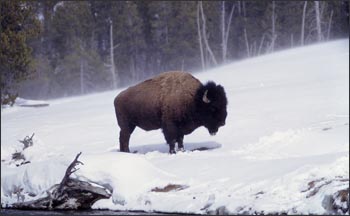 Grainy photographs of America's Old West recall a time when large bison herds migrated across wide prairie lands, 30 million strong, with the changing seasons determining their path and destination. Now, NASA satellite data and computer modeling and U.S. Department of Agriculture (USDA) information are helping track the remnants of this once mighty herd in Yellowstone National Park as they migrate with the melting snowpack.
The Yellowstone bison are the only herd in lower North America to survive since prehistoric times. Hunting and later poaching dwindled their number down to fewer than 50 animals by 1902. Prior to 1700, millions of bison roamed through Montana, Wyoming and Idaho in areas that later became Yellowstone National Park, the world's first national park. The bison herd at Yellowstone has grown to about 3,900 animals thanks to creative initiatives at the park to restore and maintain the population.
Scientists at California State University Monterey Bay (CSUMB) and Montana State University at Bozeman, and the National Park Service (NPS) have collaborated on a five-year, NASA-funded project that uses NASA satellite data and computer modeling to help park officials better understand the relationship between snow accumulation and the way it melts during the period when bison migrate between habitats at lower and higher elevations.
Every winter, the deep snow in Yellowstone drives most bison to lower elevations as they embark on their quest for food. In this search, some bison will migrate beyond the Park's borders. When bison are outside the boundaries of Yellowstone, the management authority on the northern boundaries of Yellowstone shifts to the State of Montana. Conflicts can arise between people who value conservation of the bison and the ranch owners and others who concerned about the possible risk to nearby cattle from Brucellosis-infected bison.
An inter-agency partnership has developed a management plan to address this issue, requiring Yellowstone officials to move the animals off of private property, back onto public land, and sometimes capturing bison to prevent them from commingling with neighboring livestock.
"Our goal is to provide the latest snowpack information to park officials," said landscape dynamics expert Fred Watson, principal investigator of the project and an assistant professor of science and environmental policy at CSUMB. "Ecologists try to best understand how animal populations respond to the changing conditions of the landscape where they live. Snow is a very important factor in the livelihood of all wildlife species in the ecosystem, including the Yellowstone bison population," said Watson.
The release of captive bison is timed to ensure a higher likelihood the animals will remain in the park. Knowing when and where the snow will melt is key to whether the bison will stay within park boundaries. To better inform the management team, park officials use a model of snowpack dynamics developed by Watson and his staff to provide the most up-to-date projections on snowpack distribution throughout Yellowstone's winter range areas.
The snowpack model provides daily maps of snowpack depth and density throughout the Yellowstone landscape, in near-real time. It uses data from NASA's Landsat satellite to describe how the snowpack is influenced by patterns of vegetation, geothermal features, and wind. Daily measurements of precipitation and temperature from USDA Snowpack Telemetry system are used to drive the model through time.
"Bison have one of the longest migrations of any large mammal in the country. The fact that they are moving to low-elevation winter ranges outside the park is actually a sign of how successful our restoration efforts have been," said Rick Wallen, leader of the Park's Bison Ecology and Management team. "The modeling of snowpack conditions on winter ranges provides managers a measure of how quickly a snow-covered area becomes clear during the spring melting period. We now have a much better idea when to release wild bison and expect winter ranges to become accessible for the bison during the critical late winter period."
"The National Park Service is not a traditional user of NASA information," said Watson. "But this is a great opportunity to use NASA technology to help the folks at Yellowstone. This project lets them know what capabilities we have and enables us to try different ways to incorporate NASA data and technology into their whole bison management program. It's a wonderful chance to aid in wildlife management."
Read official NASA press release.