Contributors: Assaf Anyamba with Kenneth J. Linthicum, Compton J. Tucker, Robert Mahoney, and Randall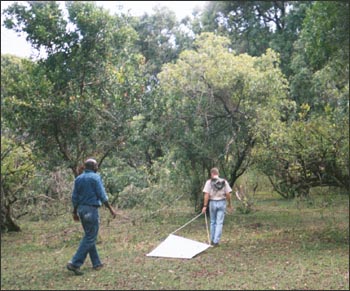 During the period of August to September 2000, the Yemen Ministry of Agriculture and Irrigation, and the Ministry of Health reported the widespread occurrence of Rift Valley fever (RVF) disease in humans and livestock in the El Zuhra district located on the western coastal plain of Yemen.
Experts in virology, epidemiology and laboratory diagnostics from Yemen, the World Health Organization, and the United States Naval Medical Research Unit 3 Center in Cairo, Egypt confirmed the occurrence of the disease by field surveillance.
RVF is a mosquito-borne disease associated with episodic flooding of shallow depressions called "dambos" in the savanna land of Africa or "wadis" in the Arabian Peninsular. These shallow depressions contain mosquito eggs infected with the RVF virus. Large scale flooding in such semi-arid areas results in appropriate habitat for mosquitoes to survive and spread the disease.
Given the complexity of the terrain in the area of the outbreak, it was not possible to exclusively utilize coarse spatial resolution (8 km) time series vegetation index data from the National Oceanic and Atmospheric Administration (NOAA) sensor, the Advanced Very High Resolution Radiometer (AVHRR) to map areas at risk for RVF.


Pairs of Landsat 7 data at 30 m spatial resolution acquired during May and September 2000 were compared to determine areas of increased vegetation vigor.  In the images (left), areas appearing in different levels of red indicate increasing amounts of vegetation. Between May and September 2000, vegetation growth increased along the river in this region of Yemen. Landsat data in combination with aerial surveys revealed numerous areas along the coastal plain and neighboring areas that were conducive to the transmission of the RVF virus. This enabled the surveillance teams to much better target disease control operations to areas at highest risk of disease than would have been possible using ground surveillance methods in this region of complex topography.