by Jim Cawley, NASA's Kennedy Space Center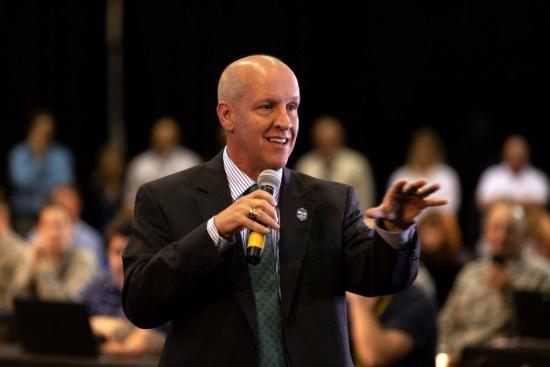 September 22, 2021 • Landsat 9 is targeted for launch no earlier than Sept. 27, 2021, on a United Launch Alliance Atlas V 401 rocket from Space Launch Complex 3 at Vandenberg Space Force Base in California, will continue the nearly 50-year legacy of previous Landsat missions. It is a joint NASA and U.S. Geological Survey (USGS) mission to monitor Earth's land and coastal regions that began with the first Landsat in 1972.

Landsat 9, along with its sister satellite Landsat 8, will collect images from across the planet every eight days to help monitor the Earth's health and help people manage essential resources including crops, irrigation water, and forests.

Meet one of the key members of the Launch Services Program team that will put this satellite into orbit:

Name: Tim Dunn

Official title: NASA Launch Director

Job responsibilities: As Launch Services Program (LSP) launch director, I am responsible for planning and directing launch campaigns and countdowns for our NASA science and robotic spacecraft. I also work with all government users of commercial launch services to deconflict our combined launch dates and ensure our NASA LSP missions have a reserved spot to launch in the range manifests, or schedules. I have the privilege of working with an incredible team of engineers, scientists, and other professionals to assure perfectly performing rockets for our customers' precious cargo.

Time working for NASA: 20 years and 9 months – all at Kennedy Space Center, and all in LSP!

Degrees earned: Bachelor of Science in electrical engineering from the University of Alabama; Master of Science in space operations at the Air Force Institute of Technology

Hometown: I was born and raised in Arab, Alabama. I have lived in Merritt Island, Florida, for the past 28 years

Family: Wife, Julie, daughter, Gracie, son, Michael, and daughter-in-law, Caroline

Hobbies: Golf, bicycling, hiking, and cheering on the Alabama Crimson Tide football team

Fun fact: One summer in college, I attended Army Airborne School where I jumped out of a perfectly good airplane five times and earned the Army's Parachutist Badge! Also, I really enjoy mowing the grass.

Click here to read about Senior Vehicle Systems Engineer Matt Johnson.