Two Washington D.C.-based events this month helped introduce Landsat to the public. On April 21 and 22, at an Earth Day celebration in D.C.'s Union Station, visitors explored changes to Earth's landscapes over time. Using cubes displaying four different Landsat scenes, participants puzzled out the sequence of large landscape changes in Brazil's tropical forests, the Mount St. Helens region pre- and post-eruption, Yellowstone National Park before and after the widespread 1988 fires, and Las Vegas over the last four decades of extensive urban growth.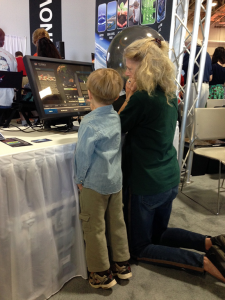 During the Earth Day event, Landsat 8 Project Scientist Jim Irons gave a talk about the Landsat program using NASA's massive hyperwall.
Then, this past weekend, the 3rd annual U.S. Science and Engineering Festival was held at the Walter E. Washington Convention Center in Washington, D.C. For three days, April 25 to 27, the public was invited to explore over 3,000 hands-on activities and listen to scientists and engineers from around the country explain their research and show their applied science and engineering at the nation's largest science festival. The festival aim was to excite young students about careers that rely heavily on science, technology, engineering, and math.
NASA was the anchor exhibit in the Aerospace Pavilion of the festival, with 30 different hands-on demonstrations. At the Landsat exhibit, participants explored a 8 ft. by 10 ft. Landsat mosaic of the Chesapeake Bay on canvas, on the floor. They identified familiar features and landmarks wondering, "Where's my house?" That question was asked by nearly every visitor including NASA Administrator Charles Bolden.


Further Reading:
+ NASA Participation in the USA Science and Engineering Festival
+ USA Science & Engineering Festival