Have fun with with these Landsat activities on your own or with your family!

Be a Landsat detective and use the letter decoder to find out what in the world you're looking at in this Landsat 8 image.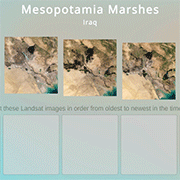 Learn about Landsat and explore the way it sees the world with a video and interactive application.
Create a flipbook and watch the Ucayali River as it meanders through the Peruvian landscape.