Northrop Grumman recently signed agreements to license three technologies from NASA related to satellite servicing.

Two of the technologies were developed by NASA for the On-orbit Servicing, Assembly, and Manufacturing 1 (OSAM-1) mission. OSAM-1 is a first-of-its-kind mission that will grapple a US government-owned satellite, Landsat 7, to refuel it and to demonstrate the capability to potentially extend the operational life of satellites on orbit. Landsat 7 was not originally designed to be refueled, repaired, or modified, so the developed technologies were designed to enable NASA to provide this capability.

"Since the vast majority of satellites in operation today were not designed to be serviced, the technologies demonstrated by OSAM-1 will play a critical role in enabling a more sustainable future of spaceflight," said Jill McGuire, director of NASA's Exploration & In-space Services, the division leading the development of OSAM-1.

One of the NASA technologies licensed for future use by Northrop Grumman is a gripper tool used to grapple satellites. NASA developed the technology to allow OSAM-1's robotic arm to grapple Landsat 7's marman ring, or the component that originally attached the satellite to the rocket that launched it to space. This operation is no easy feat. With Landsat 7 moving at speeds of 16,000 miles per hour and time delays in communicating between Earth and space, the grapple will need to occur autonomously, with no humans involved. The operation enabled by the gripper tool is the essential first step by OSAM-1 to make the refueling of Landsat 7 possible.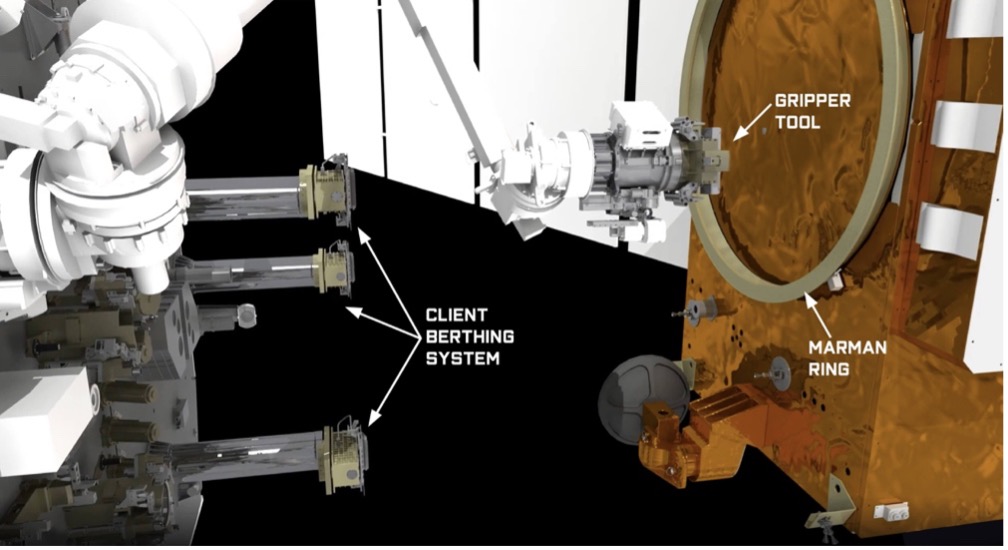 Northrop Grumman has also licensed the client berthing system (CBS) that was developed by NASA for OSAM-1. OSAM-1's robotic arm will affix Landsat 7 to the CBS, consisting of three posts on the OSAM-1 spacecraft, in order to position it for refueling.

The third licensing agreement is for NASA's Fluid Transfer Coupler (FTC), a cooperative servicing technology. Cooperative servicing refers to the servicing of satellites that were designed with common interfaces to be fueled, repaired, or replaced. The FTC is a command-driven motorized mechanism that enables easier refueling and replenishment of fluids in space. It was originally designed for Gateway, a component of NASA's Artemis plans that will serve as a multi-purpose outpost orbiting the Moon.
The FTC enables two different components to join together and transfer fluid from one side to the other. An actuation system like the FTC is useful in fueling operations and also for replenishing other fluids, such as ammonia for maintaining cooling systems or liquid oxygen for life-support systems in human habitats.

Unlike Landsat 7's fuel valves, which were not designed for in-space refueling, the FTC allows for easier, less risky, and more routine refueling and fluid replenishment. Cooperative servicing technologies like the FTC are critical to establishing a sustained human presence beyond low-Earth orbit and can also help to make spaceflight more affordable and sustainable through routine servicing of satellites.

"Working together with private and civil organizations like NASA is a smart way to further develop advanced technologies, achieve common standards, and deliver them as rapidly as possible to our customers," said Joanne Woestman, director of on-orbit servicing programs at Northrop Grumman.

NASA has previously collaborated with Northrop Grumman on satellite servicing activities, such as providing technical assistance for its Mission Extension Vehicle, or MEV, through a no-funds exchanged Space Act Agreement. The MEV extends the life of satellites in geostationary Earth orbit by docking with a client satellite and using its own propulsion system to provide attitude control, maneuvering capability and maintain orbital position. Unlike OSAM-1, MEV does not transfer fuel to a client vehicle.

"An important part of making satellite servicing the norm is transferring the necessary NASA technologies to U.S. companies to jumpstart new commercial industries," said Trudy Kortes, director of technology demonstrations within NASA's Space Technology Mission Directorate at NASA Headquarters in Washington.

With that goal in mind, NASA is actively transferring OSAM-1 and other servicing technologies as they are developed to any interested U.S. company via Space Act Agreements, licenses, and other agreements. The Agency recently held its sixth On-orbit Servicing, Assembly, and Manufacturing (OSAM) Technology Transfer Workshop, which was open to companies, academic institutions, and other government agencies interested in learning more about OSAM technologies.

OSAM-1 is funded by the Technology Demonstration Missions program within NASA's Space Technology Mission Directorate (STMD). STMD also manages the agency's Technology Transfer program. To license a NASA technology, visit: https://technology.nasa.gov/license